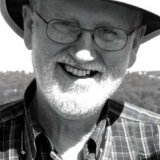 David Morris studied at Leeds College of Art and taught in Hull before moving to Lincolnshire. He was Lecturer in Ceramics at Grimsby School of Art, a Full Member of the Craftsman Potters Association and ran a pottery studio until he retired from teaching.
His paintings have been exhibited at the Catto Gallery in London, with the R.I. at the Mall Galleries and with the R.W.S. at Bankside, as well as in many provincial galleries and exhibitions. He has shown in the Laing Art Competition and in the Singer and Friedlander/Sunday Times Watercolour Competition.
At various times his work has been shown in the following exhibitions and commercial galleries:- Sentinel Gallery - Wivenhoe, Harley Gallery, Harrison Lord, Marshchapel Arts, Grainthorpe Arts, A&K Wilson, The Sam Scorer Gallery, Arts Coritani, Holmfirth Artweek, The Ropewalk Contemporary Arts and Crafts, Zillah Bell Gallery, Patchings, Bircham Gallery, Orange Street Gallery and J.Noote.
He has been awarded prizes from the Royal Watercolour Society, the Holmfirth Art Exhibition and the Patchings Exhibition (The Great Art Award 2006 and 2007 and the Winsor and Newton Award 2008). He was a co-founder of the Louth Art Exhibition and he is a Member of the Lincolnshire Artists' Society.
© David Morris 40 Aswell Street Louth LN11 9HP Tel: 01507 606303 Mob: 07341332536
Copyright of the images is retained by the artist
https://www.facebook.com/profile.php?id=100002328055886
Most of the paintings shown on this site can be purchased as Giclee prints, some are available as offset litho prints.